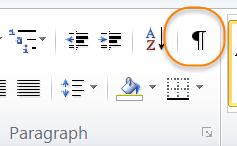 In my many years of teaching adults, I have come to realize that most people don't know what they don't know.  While sometimes this can be as bad as someone having the Dunning–Kruger effect, most of the time it isn't because of low IQ, but instead is because we automatically have a tendency to believe that "what you see is all there is", as Nobel prize winner Daniel Kahneman described in his book "Thinking, Fast and Slow".   In either case, I have needed a method to determine fairly quickly about what a person's ability level is with Microsoft Word, so I don't waste time re-teaching things that are too basic for someone, and at the same time, I don't assume they are ready for advanced materials, when they aren't.
The most effective method for me to start to figure out how skilled a user is, is to ask "Do you use the Show/Hide button in Word?" and if the person answers "Yes", I follow up with "Can you share about when you use it, and how it has been helpful?"
One of the most common things Show/Hide helps with, is finding extra spaces in a document.  It is easy to accidentally press the space bar twice, or in other ways add additional spaces to a document that you might not want.  But it is not always easy to see that this happened.  By turning on Show/Hide, there is a dot shown for every space used, and it becomes easy to know if extra spaces were inserted when they were not meant to.  Check out Microsoft's Support page about how to show or hide formatting marks for more information about this.
So why else is the Show/Hide button so important to anyone who is a professional Microsoft Word user?  It is because that Word has from 3 to 5 ways to do nearly any form of layout work you want to do, and if you receive a document from someone else, or are working on a long document yourself, you will often want to be able to quickly see which method Microsoft Word is actually using.
As an example, there is more than one way to start a new page in Microsoft Word.  For instance, let's say you have one page that only is halfway filled with text for the end of a chapter of a book, and you want your new chapter to start on a new page.  An amateur will tap the Enter key several times to get to the new page, while a professional will either use page break (by tapping Ctrl+Enter) or insert a Section Break (Next Page), to start the new chapter.  To quickly see which method was used, a professional Word user will turn on Show/Hide, and see which was used.  Check out the GCF tutorial about breaks to see how Show/Hide helps with this.
So how else do you think Show/Hide can help you?
Are there important concepts I left out of this article?
Please comment and let me know your thoughts.
Tomorrow, we will talk about another "hidden" portion of Word, the use of Styles, and why all professionals should use them.
One Response to 'Professional Microsoft Word Skill #1: Know what is Happening behind the Scenes with Show/Hide'
Leave a Reply