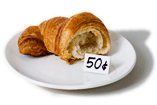 History is filled with the the multiple discovery effect.  And inventors have had a long history of battling over who invented something first, what ideas are stolen, and what can be considered novel enough to be protected by patents, and other intellectual property laws.
It is due to that murky landscape, and the fact that I have wanted to put my efforts elsewhere, especially in the field of education, that I have never attempted to patent my ideas, although at times I have emailed them to groups that I thought might be interested in working with me to make them a reality, and at other times I have just publicly published them on a blog or website, but really not expecting too many people to read them.
Also, I want to be the first to admit, that I've had plenty of ideas that turned out to be "dumb ideas".  But I have a feeling of redemption knowing that at least 3 of my ideas have come to fruition, although probably not due to anything I did, and the multiple discovery effect is in effect.
Laser Projectors
A few years back, I came up with the idea of using lasers in a projector, instead of traditional LCD technology.  I thought about it as a way to possibly make cheaper projectors, that could be smaller and portable, although I was (and am still) concerned about health issues if people look into the light. (I have ideas on how to solve that problem)  And while I haven't seen my personalized version come to reality yet, just this week, The Economist wrote about using lasers in movie theater projectors, and this made me smile.
Write-Only Memory
Last week, I was reading an article in The Economist, and it looks like Apple has taken the major concept behind what I was calling the PAUS system and implemented it, which is using "write-only" memory. While on the surface, "write-only" memory seems daft, the concept is that the system physically encrypts something so only an encrypted form of the data can ever be read, not the original data, so it is "write only".   This technology is the only way that we can ever have truly secure passwords, because without a hardware solution, any software, even that reading fingerprints or irises, can be hacked.
Skipping Ads with a DVR
Both of these remind me of when a long time ago, I thought of using the closed captioning of commercials to be able to know where they were so they could get skipped, and Dish implemented something similar about 10 years later (although I'm not sure if they use my method or not)
And, in the end, it is just nice to know that amid the many "dumb" and outright "crazy" ideas I've had in my lifetime so far, that some of them have been worthwhile enough for major businesses to implement and have major effects upon our society.   Maybe some of the ones I am actually taking the time to pursue, such as in education, will be able to have such broad effects.
2 Responses to 'Several of My "Crazy Ideas" coming to Fruition, but not from Me'
Leave a Reply