Archive for January, 2016
First, I want to say, that I have no credible evidence that the New York Times has been hacked again; like they were in 2013.  But the fact that one of their websites (the wonderful Mapping America site) has not been working for 12 hours, without any apparent response from them, gives me reason to think they don't even know that part of their website isn't working (and I tried it on 3 web browsers, and the error is a server side error):
In technology, backward compatibility is a common issue.  Some software companies like Microsoft have tried to keep most of what they created being backward compatible, so that files created in older versions will still work on newer versions.  Even if this causes contortions to arise to be able to do new features, and makes the software less "elegant" and simple.
But, software that isn't sufficiently backward compatible can have some big problems with getting people to adopt it.  For example, the Python programming language is still having troubles getting programmers to switch from version 2.x to 3.x.  Even though there are relatively few changes between the two, they are profound enough to make it very difficult in switching.  This same problem faces attempts at education reform.
This past week, I found out that my friend Brian O'neil recently died of what was likely a heart attack.  I first met Brian when I was working for Twin Rivers Adult School.  He later helped me to meet my wife; and for a while he was a roommate and became an uncle-figure to our kids.  In fact, we don't know yet how to tell our kids about his passing.  There has been no obituary that I'm aware of, so I wanted to at least share some memories and the bits that I know of his life.
I wrote recently about my thoughts on whether MOOCs have been a failure.  Udacity is showing that they are not, and is an example of where the potential of technology to "disrupt" a market is finally entering the realm of education.  And it has now put its "money where its mouth is", by doing something no college (that I know of) has done: guarantee its graduates a job. But what is the catch (if there is one)?
As noted in the book Men of Maryland by George Freeman Bragg in 1914, in Frederick Douglass's last address to a Baltimore audience, in his speech he said:
A little learning, indeed, may be a dangerous thing, but the want of learning is a calamity to any people…
I saw this recently in as the heading graphic for the Black Enterprise website, in an article that interviewed Ted Fujimoto, and the quote seemed apropos to my thoughts posted yesterday, including some of the framing about how we might view the Common Core, and suggestions for change.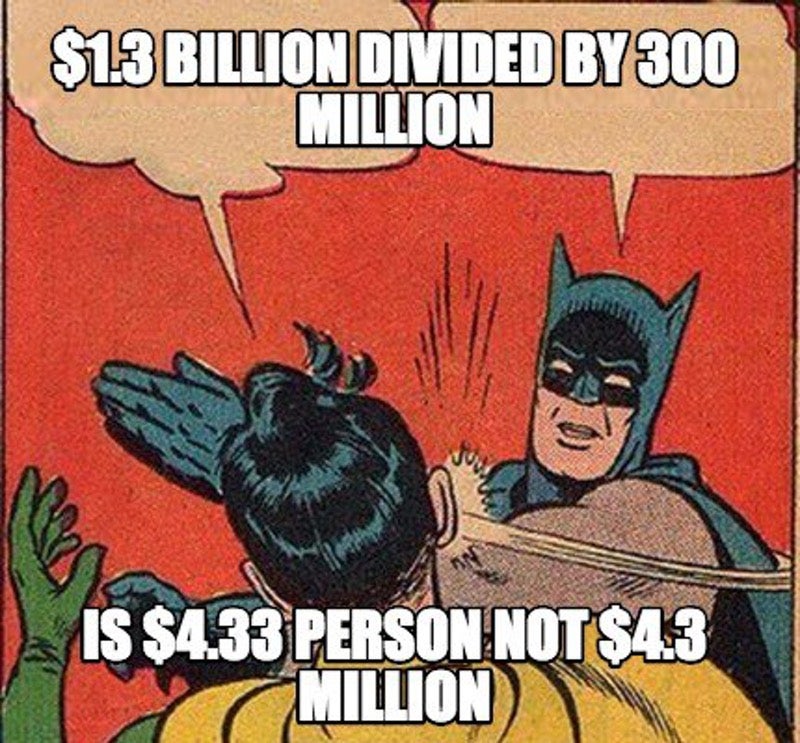 With the hype about Powerball, I am reminded of a quote, that the lottery is a tax on those who can't do math. Further, the meme that is going around Facebook that if we divide the current Powerball pot by the population of the U.S. we all would get $4.3 million, also shows a lack of math ability.  (Although the counter meme is grammatically wrong, and many posting the original meme are doing it as a ruse).  What is worth looking at deeper is the lack of understanding of big numbers and probabilistic thinking in the U.S., which our education system has not yet solved.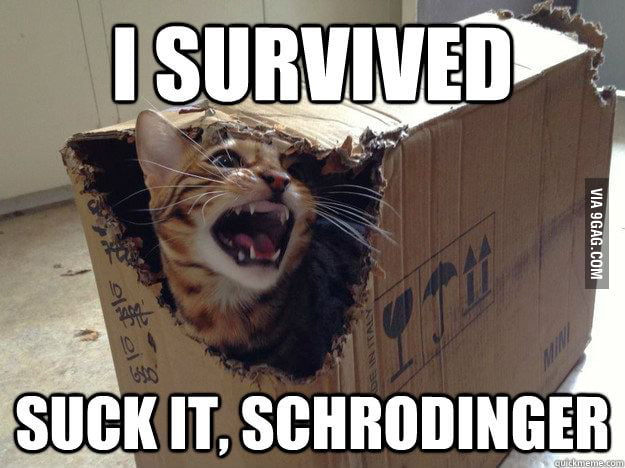 Over the past few years, I've often replied to questions about how I was doing, by saying I've felt a bit like Schrodinger's Cat.  In that I feel I don't know "how I am", because the fate of what that might mean in the near future is so unknown and having potentially dramatic differences depending upon the swirl of events surrounding my life.
But, I have come to realize our whole life, each of us are somewhat like Schrodinger's Cat, living in bubbles of uncertainty, with unknown butterfly effects surrounding us; although, the biggest difference between us and the fabled unknown fated cat, is that we have the opportunity to make choices that feed into the intricate system of the universe. But it seems the best we can do is to model choice as randomness or at least probabilistic randomness.
There is a paradox:  Humanity's most developed organizations and systems are based upon what is learned in our education systems; yet, the field of education lags behind nearly all others.  One such area I have seen, is how feature-poor Student Information Systems (SIS) are.  Despite such systems being case studies in many database books, most of these systems do not use any data science methods to improve operations.  Specifically, I have usually not seen active security, predictive analytics, nor even resource optimization as features.  Here is why these are important to have, and my invitation for SIS providers to come into the 21st century.