Archive for the 'Poetry' Category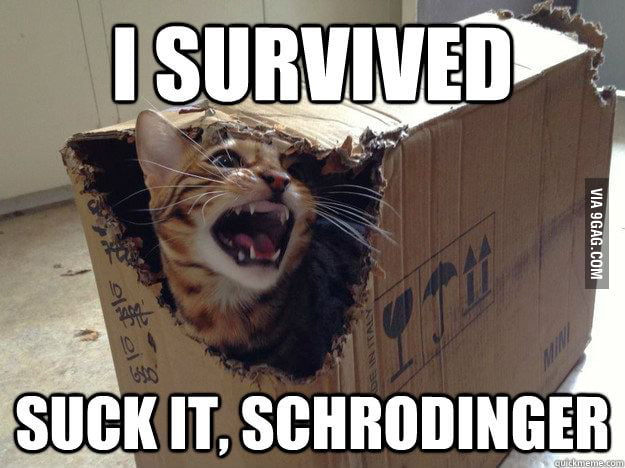 Over the past few years, I've often replied to questions about how I was doing, by saying I've felt a bit like Schrodinger's Cat.  In that I feel I don't know "how I am", because the fate of what that might mean in the near future is so unknown and having potentially dramatic differences depending upon the swirl of events surrounding my life.
But, I have come to realize our whole life, each of us are somewhat like Schrodinger's Cat, living in bubbles of uncertainty, with unknown butterfly effects surrounding us; although, the biggest difference between us and the fabled unknown fated cat, is that we have the opportunity to make choices that feed into the intricate system of the universe. But it seems the best we can do is to model choice as randomness or at least probabilistic randomness.
The past is the past, and it will always last as the past. But now I've moved on, and the me of today is different than the I of my yesteryears. So while I have no shame of who I was, it is not now who I am. – Jacob J. Walker
I do not see you; I see the light's reflection off your face
I do not hear you; I hear the rhythmic air within my ears
But when I touch you, I feel you; at least I feel the charge, with the connection between us only separated by nanoscopic space